THE SEAMSTRESS' EQUIPMENT
Sewing will be a better source of enjoyment if you start that activity in the best conditions. As such, you should have a list of basic tools at hand.

THE SEWING MACHINE
Whatever the brand of the sewing machine, it's important that it has:
- A straight stitch with length adjustment
- A zig-zag stitch with length and width adjustments
- A zipper foot meant, as its name states, to sew zippers, but also piping or any thick trim
- And, possibly, a stitch for automatic buttonholes (to be used with a special foot for buttonholes)
THE SEWING KIT
 A sewing kit is composed of two different types of materials: the tools and the notions
THE TOOLS
Here's a list of necessary tools that you will find handy during your life as a seamstress. Do spend on quality tools, that's a long-term investment.
Thin sturdy paper or plastic and a pencil to trace patterns. Tissue paper is usually used but other material can be used as long as it's meeting these criteria.
- A pair of scissors, to cut plastic or paper pattern pieces
- A pair of scissors, dedicated

exclusively

to cutting fabrics
- A pair of small scissors (or embroidery scissors), to cut threads or to snip/clip
- A tailor's chalk or some air-/water-erasable fabric marker to place markings on the pattern pieces
- Pins to baste your pieces at each step
- A set of sewing needles for sewing seams/hems or buttons by hand
- A set of sewing needles for your machine, in case the one in place breaks
- Safety pins, e.g. to thread the elastic inside a casing
- A measuring tape
- A seam-ripper, especially handy when ripping seams sewn by mistake
- Bobbins, one of each thread color would be ideal
- A pinholder, to have all of your pins on hand
- A good iron, indispensable tool for a neat work at each step
SEWING NOTIONS
Here's a non-exhaustive list of sewing notions i.e. consumable items necessary in realizing any of the sewing projects you want:
- Threads (matching or not the color of your fabric)
- Elastic
- Buttonhole elastic
- Binding
- Piping
- Buttons
- Fusible interfacing to strengthen and stiffen some pieces
A good-quality thread is important. Choose well-known brands such as Gütermann, Mettler, DMC, Coat etc. available in any good fabric shop/ haberdashery
A 100%-polyester thread is preferable to a cotton thread since polyester thread has a wider range of textile uses. Polyester threads are smooth and regular and hardly ever break.
You should also store many meters of all kinds of elastics, bindings, pipings (and every type of ribbons you may use) so as not to be caught off-guard when starting sewing projects.

Fabric is the essential element for a successful sewing project. It's so agreeable to look for fabrics in shops, to touch them, to imagine what they will look like once sewn. However, when you are at the start of your sewing journey, choosing the right fabric for your project can easily become a nightmare.
FABRIC CHARACTERISTICS
Fabrics consist of fibers, either natural or synthetic, such as cotton, silk, linen, wool, bamboo, polyester, viscose etc. The quality and type of fabric, like poplin, batiste, corduroy, terry clot… depend on how these fibers were woven.
So, for dressmaking, there is a wide range of textile qualities, each of them having intrinsic proprieties. It explains why fabrics behave differently once sewn into a garment.
When choosing fabrics, going to a brick-and-mortar shop is the best way to understand and familiarize oneself with the various materials. As a matter of fact, it is best to see and touch fabrics to really appreciate their color, thickness, drape, softness, transparency, stretch etc... qualities that must be factored in the choice of your fabric.
WEIGHT OF FABRIC
If you choose to shop online, you can also get information about the quality of a fabric thanks to its weight (i.e. density of its weave), its width (ie. the width of the fabric between its two selvages), and other descriptive elements the seller might mention and that could be useful.
Weight can be given in linear meter (g/ml) or in square meter (g/m2). Both units are linked and depend on the width. In order to compare the weights of two fabrics, and if the weight of the first fabric is in g/ml whereas the other is in g/m, here's the rule to convert:
Weight in g/ml= weight in g/m²*width
My own guidelines for fabrics that help me assess the thickness of a fabric without having to touch it are:
- Lightweight fabric: less than 130 g/m2 (batiste, poplin...),
- Medium weight fabric: between 130 and 230 g/m2 ( thin gabardine, babycord...),
- Heavy weight fabric: more than 230 g/m2 (thick twill, woollen...).
CHOOSING THE FABRIC
To give some help in choosing the right fabric, in each sewing pattern, the designer presents various types of fabrics he/she thinks may work for this pattern. The final decision will depend on the season, the type of garment and the comfort of the garment once worn.
The chart below presents a list of garments associated to fabric types. It's a non-exhaustive list, but it may help you deciding over the fabrics for any type of projects.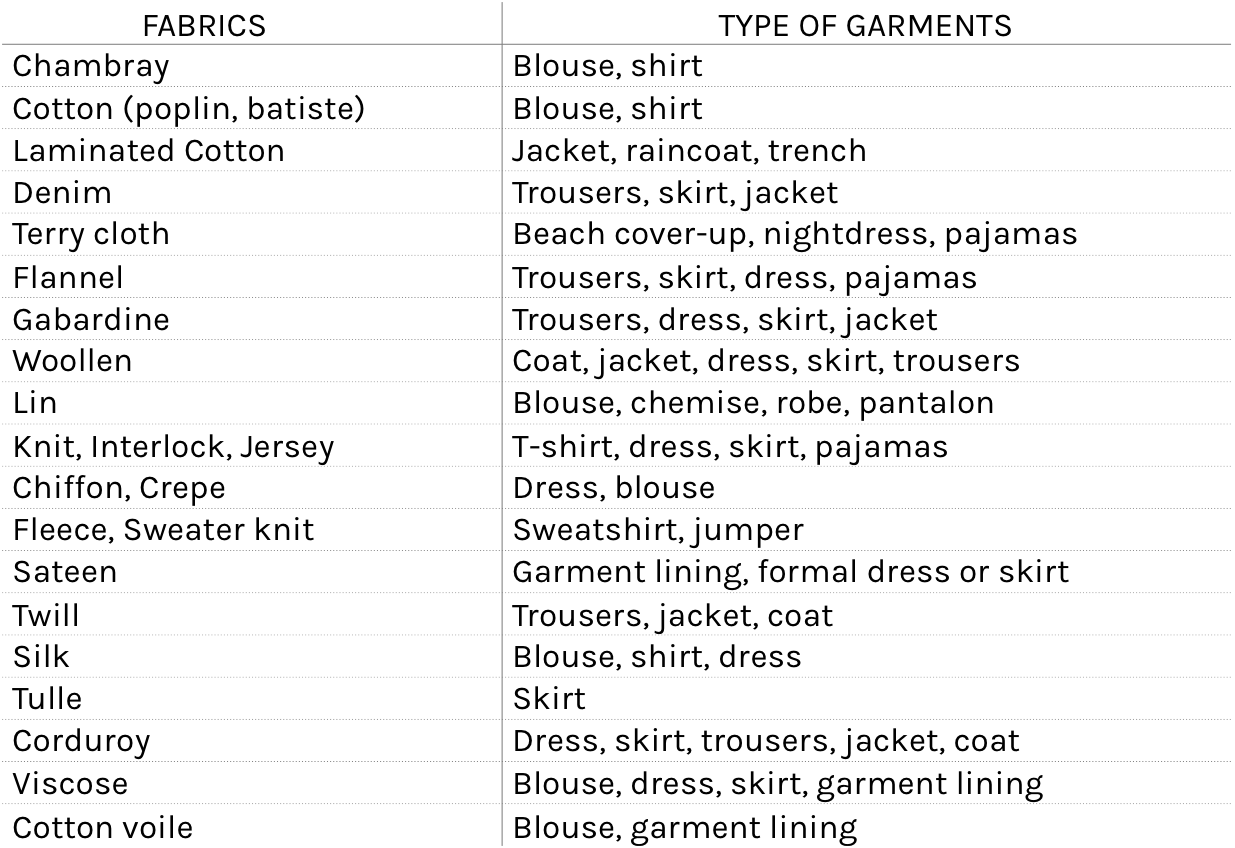 A FEW PRECAUTIONS BEFORE SEWING
Before cutting and sewing your fabric, take care to have it pre-washed and ironed. Some fabrics may shrink or bleed and it would be a shame to notice that once the garment is finished.
Please check that you have the right amount of fabric as stated in the instructions. Check the width too: if the width is shorter than the recommended width, you can compensate the lack of fabric with a longer length.